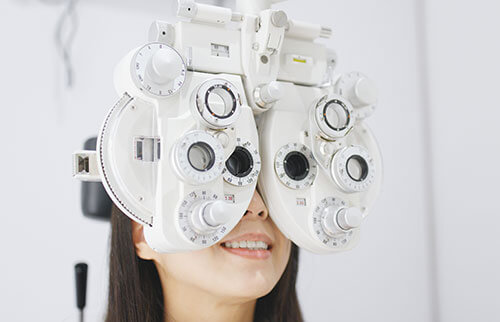 Bring your concerns to an eye health exam with a Casco Bay EyeCare optometrist. Primary care for your eyes begins with a comprehensive vision examination of your overall eye health. Then, our expert refraction determines the best eyeglasses and contact lenses prescription measurements.
Primary care for your eyes also means diagnosing and caring for many eye-related problems and diseases, including eye infections, diabetes and glaucoma. Your Casco Bay EyeCare optometrist can provide ongoing care and prescribe medications as necessary, often working together with your ophthalmologist.
For those with risk factors such as diabetes and certain other medical conditions, or a family history of eye disease, receiving regular eye care from an optometrist can be key to avoiding loss of vision.
And, if you have a medical diagnosis for your Casco Bay EyeCare visit, we will bill your health insurance.
Experience.
Each of our skilled optometrists brings a range of valuable experience to your vision care. It's one of the reasons we welcome difficult and hard-to-fit prescriptions for eyeglasses and contact lenses.
Experience is also why, at Casco Bay EyeCare, you'll receive vision care that's just right for you, your lifestyle, and your budget.
Knowledge.
Our optometrists and staff are committed to keeping up with the latest advances in vision care and vision care products. We participate in FDA clinical research studies for major contact lens and solutions companies. Most of these studies are done right in our local offices.
Service.
Whenever you call or visit Casco Bay EyeCare, you'll receive service that's personalized, fast and hassle-free. Our five offices are designed to accommodate busy schedules and busy lifestyles, while still giving you the best in individual care and attention, tailored to your needs. The health of your eyes and your complete satisfaction with our services and vision products are our top priorities.