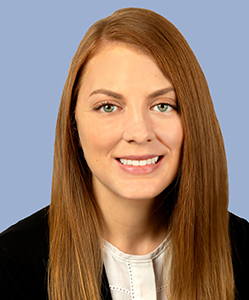 We are happy to introduce our newest optometrist!
Dr. Cyr joined Casco Bay EyeCare in the fall of 2021 after five years of practice in Bangor, Maine. She received her doctorate from the New England College of Optometry where she completed a Cornea and Contact Lens residency. In addition, she is a fellow of the American Academy of Optometry and a member of the Maine Optometric Association. Dr. Cyr provides comprehensive eye care with a focus on contact lenses. She has expertise in fitting a variety of specialty contact lens designs including rigid gas permeable (RGPs), hybrid and scleral lenses. She has a special interest in fitting lenses for patients with irregular corneas like keratoconus. Specialty contact lenses can often work for patients for whom traditional glasses and contact lenses do not provide optimal vision.
Originally from northeast Ohio, she now resides in in Saco where, when not cooking and kayaking, she enjoys hiking with her optometrist husband and their dog, Granger.
OFFICES: Dr. Cyr sees patients in the Old Port at 455 Fore Street in Portland and at 7 Portland Farms Road in Scarborough.