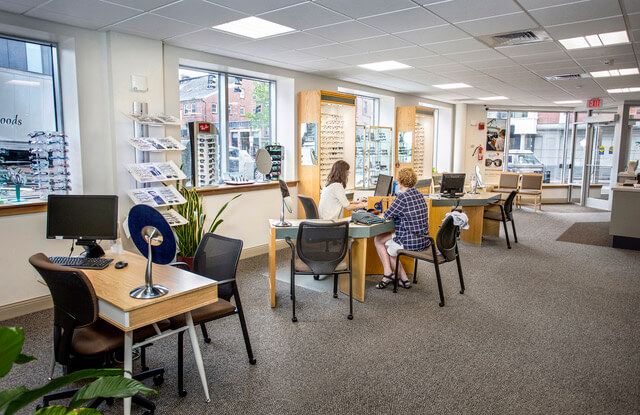 Optometrists are highly trained healthcare professionals who diagnose and treat eye and vision problems. Following four years of college, optometrists complete an additional four years of optometry school and internship.
Optometrists perform comprehensive eye health exams, treat eye problems, prescribe eyeglasses and contact lenses, prescribe medications and treat most eye diseases. They may also conduct vision training and care for patients with low vision. Optometrists help manage the care of patients undergoing cataract surgery, laser vision correction and glaucoma treatment. At Casco Bay EyeCare, our optometrists are among the most experienced in Maine.
Our skilled staff is another reason why vision care at Casco Bay EyeCare is always of the highest quality. Licensed opticians, optical assistants and registered optometric assistants are ready to help you choose the right eyeglasses, sunglasses, and sports or industrial eyewear.
As part of their commitment to patient care, many of our staff members complete rigorous American Optometric Association (AOA) programs to obtain professional certification.
Today, unlike many other optometric practices, the staff at Casco Bay EyeCare includes certified paraoptometrics (CPOs), certified paraoptometric assistants (CPOAs) and certified paraoptometric technicians (CPOTs). These important certifications assure that you can count on the knowledge and skill of our staff as they provide vision care using the latest in ophthalmic equipment, technology and procedures.
These certification programs are part of Casco Bay EyeCare's strong commitment to continuing education for staff and doctors – a focus on professional competence and learning that sets Casco Bay EyeCare apart.
Our nine optometrists welcome new patients!