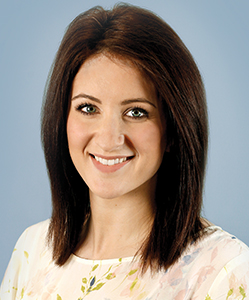 Dr. Nickerson joined Casco Bay EyeCare in 2016 after graduating with a Bachelor of Science in biology from the University of Maine in 2011 and a Doctor of Optometry degree from the New England College of Optometry, where she received the College of Optometrists in Vision Development award for her performance in vision therapy. She has been working in the field of optometry since age seventeen in positions ranging from receptionist to optometric technician, to optician, and finally optometrist. Dr. Nickerson's clinical rotations included VA Maine Healthcare System at Togus, vision therapy training at the New England Eye Institute, medical pediatrics at the Boston Medical Center, and primary care at the Dorchester Community Health Center. Following graduation, she began her primary care and ocular disease residency at the VA Maine, seeing patients at the Bangor and Togus locations. Dr. Nickerson's interests include pediatric optometry and binocular vision management as well as diagnosing and managing conditions such as macular degeneration, glaucoma diabetic eye disease, and dry eye. Dr. Nickerson enjoys providing comprehension vision care to patients of all ages.
Dr. Nickerson is a proud native of Aroostook County. She enjoys traveling, running, hiking, singing, photography, and spending time with family and friends.
OFFICES: Dr. Nickerson sees patients in the Westgate area at 1440 Congress Street and at Ten Q Street in South Portland.